It was great to again be asked to be a mentor for the WPPA's Fall Convention in Baraboo, WI. Its always great to be around my fellow photographer friends and create new friends.
I was also honored to that my two entries for Senior Folios were awarded Excellence ribbons and my Senior Boy Folio was also awarded the People's Choice award!! This award is very special to me since it is usually much harder for a photographer to shoot high school senior guys than it is to shoot girls. While most girls bring super cool outfits and are really into the session, most boys have less items to work with. I want to make sure that the guys get an artistic session that really represents who they are and what their interests are. I specialze in creating these images and incourage them to bring along verious props to the session. Most guys have interest in sports, but I also do a handful of other interests such as art, music and dance for them.
Here is the folio of James that won the People's Choice award and an Excellence Award:

It is obvious that more girls get their senior pictures done than guys and it was hard for me to pick just one girl to enter this year as I had so many great sessions! After looking at my files and showing my work to other photographers it came clear that I had a cool variety from Kennedy's session. Having many different posing, lighting and creative shots from a session shows your skill and versatility as a photographer. Kennedy was so much fun during her session and she dances next door to me so it was great to have her represent me for this competition. She has won several awards in dance, so it was cool for me to win an award for my photography with her!
Just like I mentioned about the session for guys, I want to make sure that I am capturing who that senior girl is and what their interests are. I have been super lucky this year to combine my love of art and fashion into all of my sessions and if I had to sum up what my vision and style for senior photography for girls this folio pretty much says it all.
Here is Ken's Senior Folio that won an Excellence Award: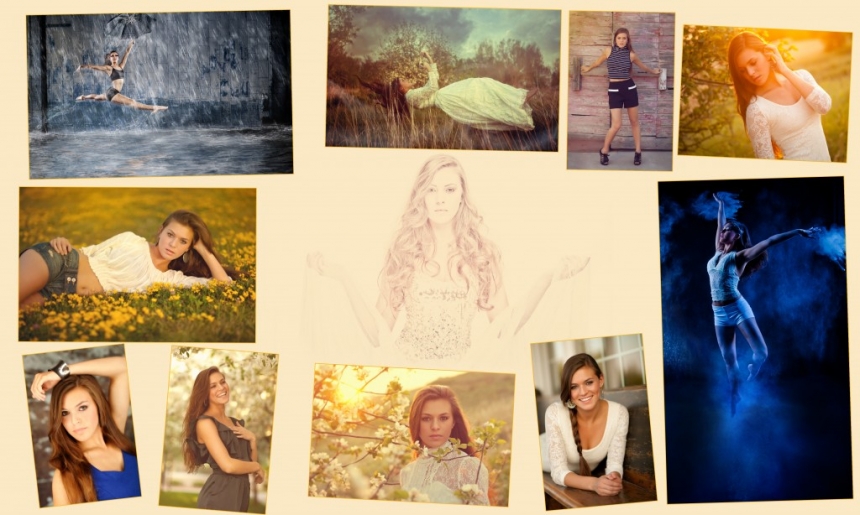 If you have been searching for something different and creative for your senior session in De Pere, Green Bay or anywhere in Wisconsin, let's get together and plan an exciting shoot. I would love to capture some cool things that show who you are!